This post was written by NYSSPE Executive Director Anthony Fasano, P.E.
This past weekend I had the pleasure of attending the 2013 New York State Mathcounts Competition at Rensselaer Polytechnic Institute (RPI).  My goal was to help our volunteer members to successfully run the event, which they did.
For those of you not familiar with MATHCOUNTS, it is a national middle school coaching and competitive mathematics program that promotes mathematics achievement through a series of fun and engaging "bee" style contests.  The program exists in all 50 states plus U.S. territories and the Department of Defense and State Department schools.
We had volunteers from both our Capital Region and Suffolk Long Island Chapters running (and scoring) the actual competition.  The day started with 8 rounds of testing in the school cafeteria, consisting of both individual and team rounds.  The day culminated in an exciting version of MATHCOUNTS Jeopardy aka the Countdown Round, which showcased the top 12 individual performers from the earlier rounds facing off through a single elimination tournament.  The winner of the Jeopardy or Countdown round was Serina Hu of Hunter College High School.
What was really amazing to me was seeing both the determination of these children during these testing rounds and the joy on the faces of the children that won different parts of the competition.  As an engineer myself, who understands that peer pressure discourages many students from showing excitement in STEM, this competition was a promising experience.
Also I have to again thank all of our NYSSPE volunteer members who made this event happen.  Some of them having been doing this for so many years now that they make it look routine; although it is a lot of work for the volunteers, all year round.  Laura Pellizzi,P.E., NYSSPE Executive Committee Member and Suffolk Chapter member, told me that she and the other helpers (she jokingly referred to them as her elves) worked all year round in preparation for the event Saturday.  She said, "This is our Christmas."
The look on many of those kid's faces certainly gave it a Christmas morning like feel.  Congratulations to all the winners at the New York State MATHCOUNTS Competition and the volunteers who made it all possible for another year.
Click here for 2013 New York State MATHCOUNTS results.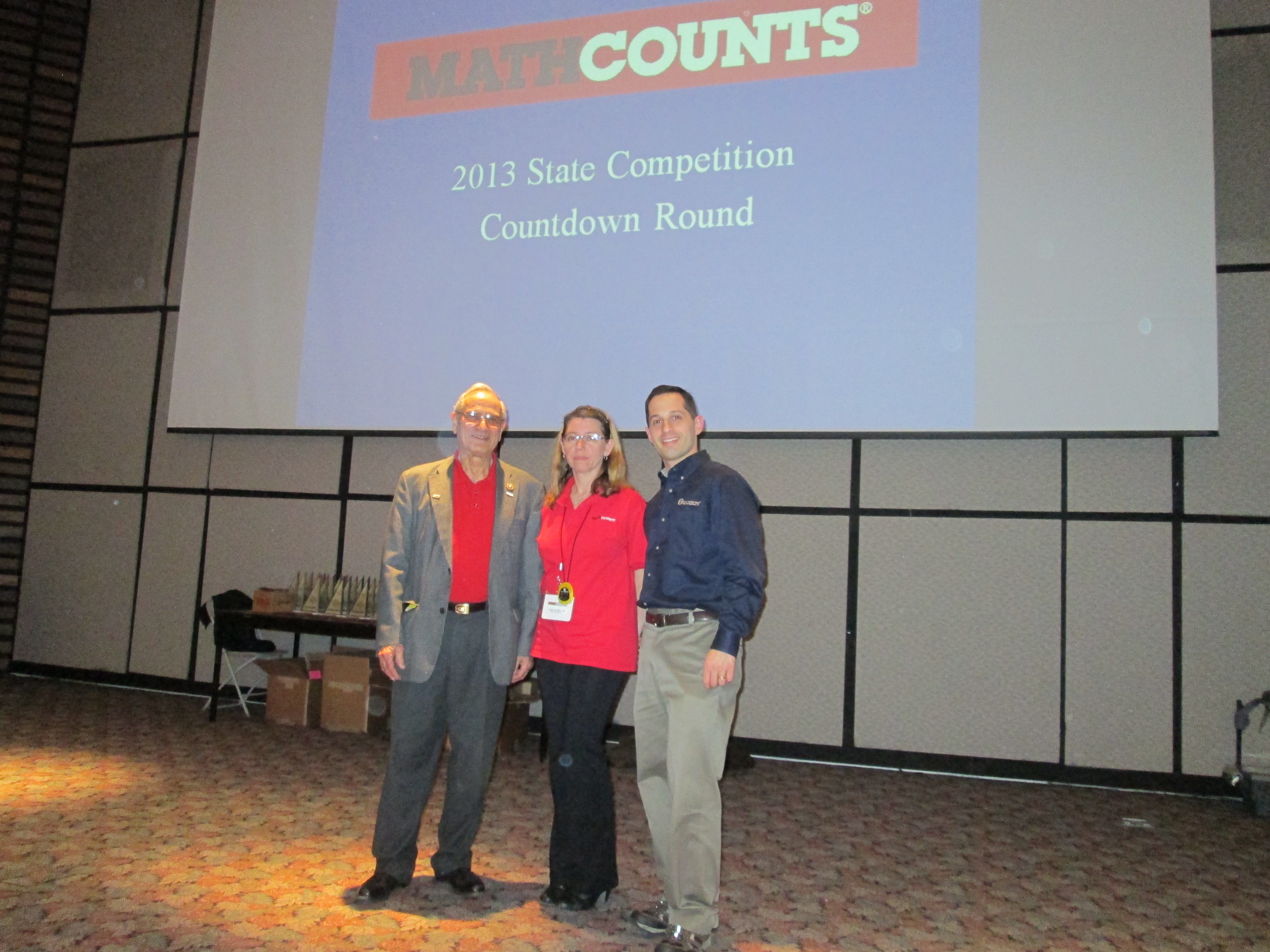 Pictured Above: Donald Aulenbach, P.E., Laura Pellizzi,P.E., Anthony Fasano, P.E.
Note: NYSSPE facilitates posting on this blog, but the views and accounts expressed herein are those of the author(s) and not the views or accounts of NYSSPE, its officers or directors whose views and accounts may or may not be similar or identical.  NYSSPE, its officers and directors do not express any opinion regarding any product or service by virtue of reference to such product or service in this blog.