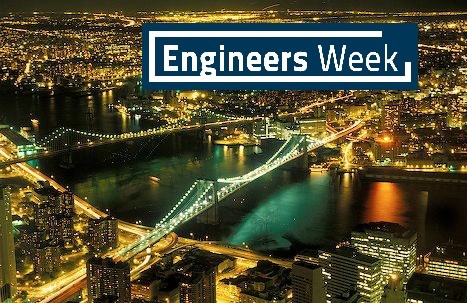 By the PEs in Construction Group,  January 2019.   
Chairman of the ASHRAE Technical Committee on Building Energy Performance (TC 7.6), Dennis Landsberg P.E.  will discuss the Impact of the 2016 changes to the NYS Energy Code on building design at NYSSPE's 2019 NYC Engineers Week Celebration Event, which will be held on Monday February 18th, 2019 at the Time Square Marriott Marquis in New York City.  The presentation will focus on changes covering each building system and how that may impact building design choices.  The 2016 State Code is based upon the 2015 International Code and 90.1-2013.  The code has provisions for Residential buildings, which are defined as single family and multi-family buildings of three stories or less, and commercial buildings, which are all buildings not defined as residential buildings.  To achieve compliance, there is a prescriptive path, a component performance paths allowing tradeoffs and a custom path that relies on modeling.  ASHRAE also has workbooks for specific building types that achieve 30%, 50% or more above code, and that can be downloaded for free.  Topics covered include a brief introduction of the  code that the NYS standard adopts, the new compliance paths, the three climate zones in NYS, full/part load efficiencies for Unitary Air Conditioners, major changes to Energy Recovery Ventilation and new categories introduced to Domestic Hot Water.
The presentation on the design implications of the 2016 Energy Code updates will be part of a series of 6 presentations (6-PDH) celebrating Engineers Week on Monday February 18, 2019 with some very interesting topics focused on infrastructure improvements and green/energy efficient measures.  The PE's In Construction Group of NYSSPE is organizing this presentation series in conjunction with the Association of Towns of the State of New York (AOT) at the AOT 2019 Training School and Annual Meeting.  This will be the Association of Town's 86th Annual Meeting. The event attracts elected and appointed officials from more than three-quarters of the state's 932 towns.
To find out more information about the presentations and the 2019 National Engineers Week celebration event in NYC, CLICK HERE
Dr. Landsberg has over 40 years of experience in energy efficient building technologies, building energy analysis and audits, energy consumption, demand-side management, commissioning and energy conscious building simulation and design.  His building end-use metering applications include DSM impact evaluation, RD&D applications for buildings and alternate fuel vehicles and building energy simulations.  Dr. Landsberg has been providing Monitoring and Verification services for his entire professional career.  Projects have included utility and government R&D projects, energy conservation program R&D projects and ESCO review services.
He served as Chairman of the ASHRAE Guideline 14 Project Committee, Measurement of Energy Demand and Water Savings.  He is chairman of the ASHRAE Technical Committee TC 7.6, Building Energy Performance. Dr. Landsberg is a voting member of ASHRAE Standards Committees 100 – Energy Efficiency in Existing Buildings,105 – Measuring and Expressing Building Energy Performance and 211 – Building Energy Audits.  He was the lead author of ASHRAE's Energy Efficiency Guides for Existing Buildings, and is currently preparing a best practices guide for ASHRAE Standard 100. He is also the ASHRAE liaison to ISO 242 Building Energy Management.
Dr. Landsberg has led numerous commissioning, retro-commissioning and LEED commissioning studies. Projects have included data centers, and combined heat and power.  He has also managed numerous modeling projects for new construction including LEED projects.  Significant projects include ELCAP – the first major end-use monitoring project in the United States under Oak Ridge National Laboratories, co-authorship of the DOE Technical Support document that resulted in the DOE-2 computer program being named the Standard Evaluation Technique; evaluation of the first super ESPC project at Fort Polk, Louisiana; development of ASEAM, the first commercial energy modeling program designed to run on a PC; authorship of GSA's second A&E Guide for Energy Conservation in Buildings – Volume 1 and work on the ACT2 project.  Dr. Landsberg is trained in ISO 50001 and Superior Energy Performance as both a coach and a Performance Verifier and is currently working with several large industrial clients.
To find out more information about Mr. Landsberg's presentation on February 18th, 2019, use the following link:  http://www.cvent.com/d/pbqbmv
The PE's In Construction (PEC) Group of NYSSPE is organizing this presentation series as part of the 2019 National Engineers Week celebrations.  National Engineers Week was created in 1951 by the National Society of Professional Engineers (NSPE) and coincided with President's Day. This is no coincidence, since George Washington, the 1st President of the United States was a land Surveyor and Engineer.   National Engineers Week is promoted by the Engineering societies to celebrate the importance of the Engineering Profession. Since 1951 this event has served as a showcase for the many exciting contributions that Professional Engineers have made to our society.  To find out more information about this 2019 National Engineers Week celebration event in NYC, use the following link:  http://www.cvent.com/d/pbqbmv
_____________
Note: NYSSPE facilitates posting on this blog, but the views and accounts expressed herein are those of the author(s) and not the views or accounts of NYSSPE, its officers or directors whose views and accounts may or may not be similar or identical. NYSSPE, its officers and directors do not express any opinion regarding any product or service by virtue of reference to such product or service in this blog.